In June 2016, Pianist Chris Gall from Munich and London-based drummer and percussionist Bernhard Schimpelsberger met at the legendary Bauer Studios Ludwigsburg, Germany, to record their newest Duo Project, a musical encounter they call MYRIAD!
Original compositions in a stylistic pluralism, juggling in a multi-layered matrix of world music, neoclassical and jazz, performed on a thrilling setup with piano and a unique setup of drums and percussion instruments.
Together, they create a myriad of musical dimensions. Be prepared to be taken on a wonderful journey!
STAY UP TO DATE AND JOIN OUR MAILING LIST!
NEW ALBUM RELEASE COMING UP IN 2020 - STAY TUNED!
"MYRIAD" (GLM Music, Release: April 24, 2020)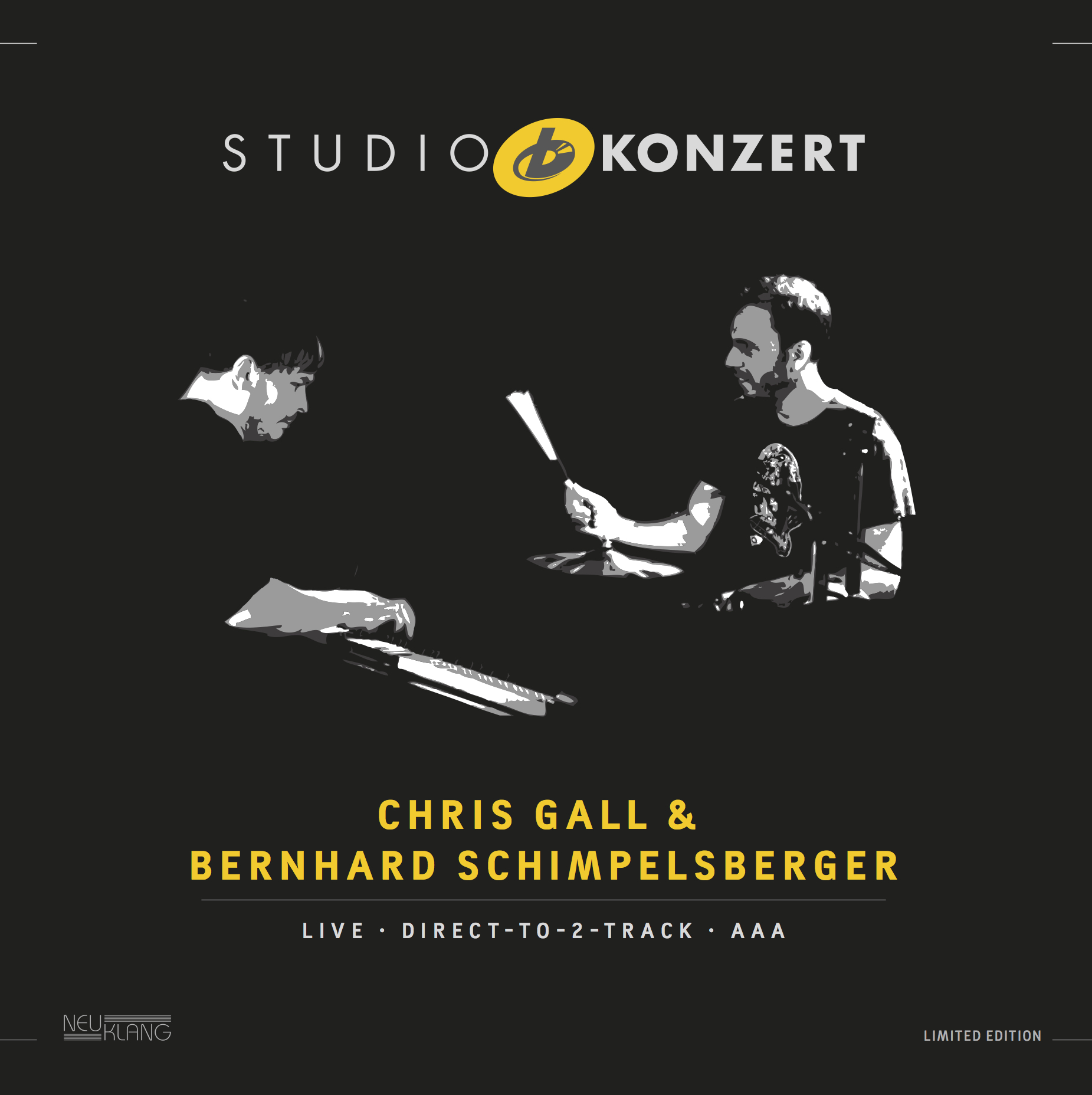 Label: Neuklang (NLP4157)
Release date: January 27, 2017
Chris Gall & Bernhard Schimpelsberger: STUDIO KONZERT
LIMITED EDITION – EXCLUSIVELY ON VINYL, not available on CD!
(180g Audiophile Vinyl Pressing)

Recorded @ Bauer Studios Ludwigsburg with live audience in the high-end, full analogue "Direct-To-2-Track"-recording technique (AAA)
Side A
Inner Perspectives (Bernhard Schimpelsberger)    4:49
Good Morning, Little Magpie! (Chris Gall)    7:15
Ballad For A&M (Chris Gall)    5:49
Mian (Bernhard Schimpelsberger)    5:31
Side B
Myriad (Chris Gall)    22:19
BUY OUR ALBUM HERE:
"diese Schallplatte zählt zum Kreis der Must-Have-LPs" 

Vinyl-fan.de
Merken
Merken
Merken
Merken
Merken
Merken
VIDEO
EPK - New Album "Myriad"
(Release April 2020)
Excerpt from "Myriad Suite"
(live @ Union Chapel, London 2018)
LIVE
17.10.2017   Wien, AUT  //  Sargfabrik
19.10.2017   München, GER  //  Kultur im Einstein
22.10.2017   Darmstadt, GER  //  Kulturkirche
26.10.2017   Leicester, UK  //  Attenborough Arts Centre
07.11.2017   London, UK  //  Vortex - London International Arts Festival
20.11.2017   Fürstenfeldbruck, GER  //  Forum, Jazz First
21.11.2017   Pullach, GER  //  Bürgerhaus
26.11.2017   Landsberg am Lech, GER  //  Stadttheater
27.03.2018   Wels, AUT  //  Klavierhaus Schimpelsberger
28.03.2018   München, GER  //  Bayerischer Rundfunk, Live@Studio2
21.04.2018   Zoglau, GER  //  Zoglau3
27.04.2018   Maxhofen, GER  // Maxlrainer Kultursommer
28.04.2018   München, GER  //  Kultur im Einstein
29.06.2018   London, UK  //  Union Chapel, Common and Kind Festival
15.05.2019   Regensburg, GER  // Degginger
03.-06.06.2019 Recording New Album @ Bayerischer Rundfunk Studio, Munich
CD-Release New Album: Schimpelsberger-Gall "MYRIAD" (GLM Music, April 2020)
Release Tour: Mai 2020
BIO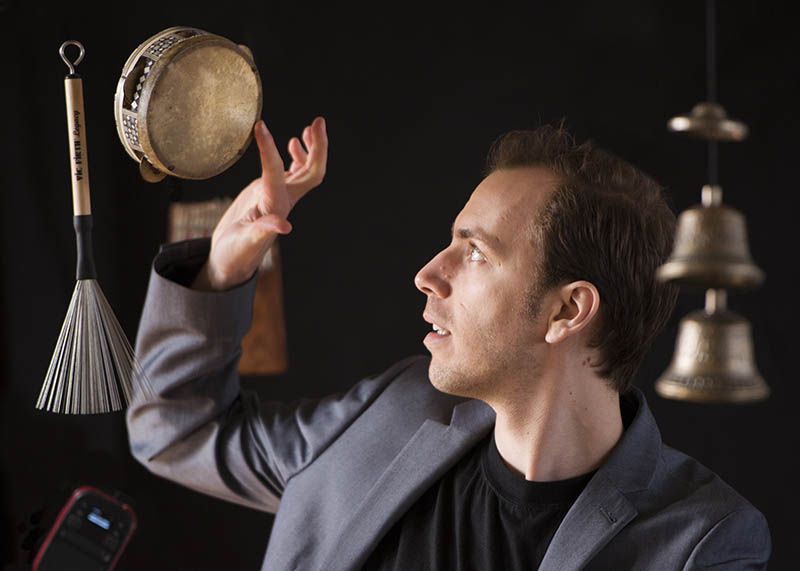 Bernhard Schimpelsberger
"one of the most technically gifted and tasteful players we have seen in a long time" Drummer Magazine UK
British-Austrian musician Bernhard Schimpelsberger plays the percussion, composes genre defying music or travels the world collecting new sounds. Bernhard grew up in Austria deeply rooted in Jazz and Western classical music, but it was his dedicated years of studies in India that shaped his unique approach to rhythm and music. Under tutelage of Pandit Suresh Talwalkar, one of the legendary Tabla masters of our time Bernhard emerged himself in the Indian rhythmic system and incorporated its poetry and intricacy into his western music making. For Bernhard music is a language of communication and is a passionate collaborator across all styles. He has all toured around the globe performing with his group Circle of Sound, Anoushka Shankar, Nitin Sawhney, Akram Khan, Talvin Singh, Susheel Raman and others. Many of his compositions are based on his unique collection of percussion instruments. Bernhard also showcases this in his percussion solo concerts titled Rhythm Diaries. He is a singular phenomenon in the world of percussion today. His musical outlook combines dazzling virtuosic technique with musical risk taking and exquisite eclectic taste.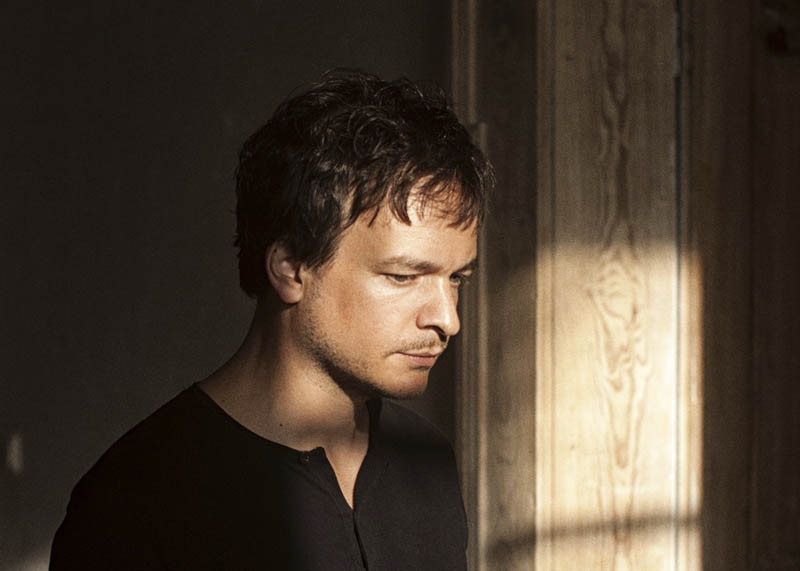 Chris Gall
"Chris Gall provides evidence that jazz is alive and kicking in Germany" Jazzwise
Hardly any other German pianist over the years broadened up the borders of jazz as consequently and original as Munich based pianist Chris Gall. Chris Gall is an up and coming pianist who has been gaining recognition in the international music scene. His playing crosses the borders of jazz and jumps into the vast field of contemporary world and pop music. After years of training as a classical pianist, he was awarded with several scholarships and studied at the renowned Berklee College of Music in Boston, USA. With his own Jazz Trio, Chris Gall has released the two albums "Climbing Up" (2008) and follower "Hello Stranger" (2010) on renowned jazz label ACT containing only original music. Since then he performed with his trio in great festivals and venues such as Montreux Jazz Festival, Stuttgarter Jazz Open, Jazz Baltica and the Vienna Concert Hall. In 2015, Chris Gall released his first Solo-CD "Piano Solo", a challenging blend of Impressionism, Jazz and Minimal Music. Since 2014, he also composes, arranges and performs as a guest musician with Germanys most successful world music ensemble Quadro Nuevo, with whom he achieved the German Platin-Jazz Award for their Album "Tango".
Contact & Booking
Chris Gall
+49-(0)171 - 384 50 21
mail/"at"/chrisgallmusic.com

Get in touch with Chris




Get in touch with Bernhard




Merken
Merken